Fantasy Big Brother
First series (2009)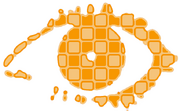 Housemates
Name
Entered
Exited
     
David
Day 22
Day 51
Violet
Day 1 
Day 51 
 
León
Day 1 
Day 51 
 
Mausumi
Day 1 
Day 48 
 
Rhian
Day 1 
Day 44 
 
Marija
Day 9 
Day 37 
 
Rhonda
Day 1 
Day 30 
 
Tim
Day 1 
Day 23 
 
Michael
Day 1 
Day 20 
 
Raymond
Day 1 
Day 16 
 
Ron
Day 1 
Day 9 
 
Melissa
Day 1 
Day 6 
 
Legend
Winner
Runner-Up
Evicted
Walked
Ejected
Fantasy Big Brother 2009 was the first series of the reality television series Big Brother. Held on RealityFanForum, Fantasy Big Brother is a series in which a number of people live in an isolated House being watched by cameras 24/7. Each week, the housemates nominate their fellow housemates for eviction with one person being evicted every Friday. The series launched on Thursday the 28th of May 2009 and lasted for 7 weeks until July the 17th, with the winner receiving a "£250,000" prize. The series is hosted by Danielle Burns. thumb|300px|left|The Opening Sequence for the Series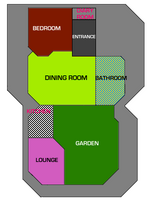 Main article: Fantasy Big Brother 2009 House
The Big Brother House is located in a former farm in the country town of Riverview. A year before the series, the farm that was there before was completely flattened and a house shell was built. Then the inside of the House was built.
The entrance to the House has two staircases on either side of the room, with the zebra-themed diary room in the center of the staircases. The first main room the housemates will see is the dining room, which has a yellow and green theme. There is also a yellow seat in the corner of the room for housemates to sit on when they break rules. There are large glass walls so housemates could see through to the garden, the bedroom and the bathroom. The bedroom had starred bedclothes and was wooden themed. The only toilets the housemates have are potties. There is also a shower and bathtub in the bathroom. The garden had a small pool, sun loungers and a fire pit, with a large pile of wood so housemates could use it. There is also a scarecrow and a haybale smoking area in the garden. The multicolored seating area and black and white kitchen could only be accessed from the garden.
Housemates
Edit
Main article: Fantasy Big Brother 2009 Housemates
The original ten housemates entered on Launch Night (Day 1). After the departure of Melissa on Day 6, Marija entered the House on Day 9 and David replaced Michael on Day 22.
Weekly Summary
Edit
Day 1 → Day 9 (May 28 → June 5)
Entrances

Violet, Michael, Ron, León, Tim, Rhonda, Mausumi, Raymond, Rhian and Melissa entered the House on Day 1.
Marija entered the House on Day 9 as a replacement for Melissa.

Tasks
On Day 3, the housemates had to create a character to represent them throughout the series with their own unique personality, looks and background. Violet won the task on Day 6.
Exits

Melissa was ejected from the House on Day 6 for climbing onto the roof of the House and for attempting to contact the outside world.
Ron was evicted on Day 9 with 53.8% of the public vote.

Day 10 → Day 16 (June 6 → June 12)
Tasks
On Day 11, Big Brother made housemates stand on a podium in the garden. Then, Big Brother threw various items onto the podium which everyone had to dodge. If a housemate hit an item, they would be eliminated. Violet was the last housemate to be hit, so became the House Leader.
Exits
Raymond was evicted from the Big Brother House on Day 16.
Day 17 → Day 23 (June 13 → June 19)
Entrances
David entered the House on Day 22 as a replacement for Michael.
Tasks
On Day 18, housemates had to pick one of their own to take part in a challenge, which was to play a game of Deal or No Deal with a twist. Instead of money in the breifcases, there would be prizes and punishments. In the breifcases were public vote, no vote, immunity, nominator, Power of Veto, House Leader, and a mystery prize. Marija was chosen and she won the Power of Veto.
Exits

Michael walked on Day 20 because he claimed that he didn't feel comfortable with the nominations process.
Tim was evicted on Day 23 with 66.7% of the public vote.

Day 24 → Day 30 (June 20 → June 26)
Tasks
For the House Leader task on Day 25, the housemates had to tell a story entirely in Polish. If a housemate spoke in English or said anything that didn't make sense, they would be eliminated. Marija won this task.
Exits
Rhonda was evicted on Day 30.
Day 31 → Day 37 (June 27 → July 3)
Tasks
Each housemate had to cook a three-course meal for their fellow housemates on Days 31, 32 and 33. After everyone had tasted everyone else's meals, they would give each of them a mark out of ten. The person with the most amount of points would become the new House Leader. Rhian won the task with 39 points out of 50 on Day 34.
Exits
With 42.9% of the public vote, Marija was evicted on Day 37.
Day 38 → Day 44 (July 4 → July 10)
Tasks
On Day 39, housemates had to name all of the countries where the capital of the country begins with the same letter. The person to do this the quickest, or with the fewest mistakes, would become the House Leader. Mausumi won this task.
Exits
Rhian was evicted with 35% of the vote on Day 44.
Day 45 → Day 51 (July 11 → July 17)
Tasks
León won the House Leader task of the final week on Day 46, which was to make a speech on why they should win Big Brother. León won immunity from the first eviction of the final week as a prize.
Exits

Mausumi was evicted in 4th place on Day 48.
León was 3rd on Day 51 with 27.8% of the public vote. Violet then left as the runner-up and, with 38.9%, David became the winner of Fantasy Big Brother 1.
Nominations Table
Edit
Week 1
Week 2
Week 3
Week 4
Week 5
Week 6
Week 7
Nominations received
David
Not in
House
Exempt
Violet,
Mausumi
Rhian,
Violet
Winner
(Day 51)
3
Violet
Ron
Refused
Tim,
León
León,
Rhian
David,
León
David,
León
Runner-Up
(Day 51)
6
León
Ron,
Tim
Raymond,
Michael
Tim,
Michael
Rhian,
Rhonda
Mausumi,
Violet
Rhian,
Violet
Third Place
(Day 51)
16
Mausumi
Ron,
León
León,
Michael
León,
Michael
Rhonda,
León
León,
Marija
León
Evicted
(Day 48)
5
Rhian
Raymond,
Rhonda
Raymond,
Rhonda
Rhonda,
Mausumi
Rhonda,
León
Marija
León,
David
Evicted
(Day 44)
8
Marija
Not in
House
Exempt
Tim,
Michael
Rhonda
Mausumi,
León
Evicted
(Day 37)
3
Rhonda
Rhian,
Raymond
Raymond,
Michael
Marija,
Violet
León,
Rhian
Evicted
(Day 30)
8
Tim
Raymond,
Rhian
Raymond,
Michael
Michael,
Violet
Evicted
(Day 23)
4
Michael
Ron,
Rhonda
Refused
Refused
Walked
(Day 20)
8
Raymond
Ron,
León
León,
Rhian
Evicted
(Day 16)
8
Ron
Raymond,
Mausumi
Evicted
(Day 9)
5
Melissa
Ejected
(Day 6)
N/A
Nomination
note
none
See
notes 1, 2
See
note 3
See
note 4
none
See
note 5
Against
Public Vote
Raymond,
Ron
Michael,
Raymond,
Violet
León,
Tim
León,
Rhonda
León,
Marija,
Mausumi
David,
León,
Rhian,
Violet
David,
León,
Mausumi
Violet
Ejected
Melissa
none
Walked
none
Michael
none
Evicted
Ron
53.8%
to evict
Raymond
44.4%
to evict
Tim
66.7%
to evict
Rhonda
54.5%
to evict
Marija
42.9%
to evict
Rhian
35%
to evict
Mausumi
20%
(out of 4)
León
27.8%
(out of 3)
Violet
33.3%
to win
David
38.9%
to win
Note 1: As a new housemate, Marija was exempt from the nomination process in Week 2.
Note 2: Michael and Violet were automatically put up for the public vote as they refused to nominate.
Note 3: León, Michael, Tim and Violet would have been up for the public vote but Michael walked and Marija used the Power of Veto she won in a task to save Violet. Therefore, only León and Tim were up for eviction.
Note 4: As a new housemate, David was exempt from the nomination process in Week 4.
Note 5: There were no nominations in Week 7 as the public are voting for who they wanted to win. On Day 48, a vote count was taken and the housemate with the lowest amount of votes, Mausumi, was evicted, leaving three housemates on the final night. León could not be evicted on Day 48 as he was the House Leader.