Sam's Amazing Race 7
Season Run
July 18 – September 26 2010
Filmed
June 11 – July 5 2010
Continents Visited
5
Countries/Territories Visited
9
Cities Visited
35
Winning Team
Lisa & Dana
Distance Travelled
34,100 miles
Number Of Legs
13
Number Of Teams
12
All-Stars
Lisa & Dana
Kelly & Brett
John & Edward
Season chronology
Sam's Amazing Race 6
Sam's Amazing Race 8: All-Stars
Sam's Amazing Race 7 is the seventh installment of the fictional series, Sam's Amazing Race. Like previous seasons, Sam's Amazing Race 7 featured 12 teams of two, with a pre-existing relationship, in a race around the world and the show is hosted by Phil Keoghan.
Production
Edit
Development & Filming
Edit
The seventh season of Sam's Amazing Race had the same format and clues as the previous season.
Applications were originally due on 7 October 2009 but this deadline was extended by 2 weeks. All interviews were held in Los Angeles during November 2009 and race locations were scouted in January 2010. The cast for this race contains a lesbian couple, Miss America winners Lauren Nelson and Jennifer Berry, a couple who drunkenly got married in Las Vegas and singing twins John & Edward Grimes.
Team
Relationship
User
Position (by leg)
Roadblocks
performed
1
2
3
4
5
6
7
8
9
10
11
12
13
Lisa & Dana
Mother / Daughter
Obbyz
7th
5th1
4th
1stƒ
2nd
6thB
3rd
1st
2nd⊃
2nd6
3rd
3rd
1st
Lisa 5, Dana 6
Kelly & Brett
Engaged
Zack.
4th
2nd
2nd
2nd
3rd
3rdA
1st
5th
4th⊂
3rd
1st
1st
2nd
Kelly 6, Brett 6
John & Edward
Twins
jerseydude
1st
1st
6th
4th
1st
2ndA
2nd
2nd
1st
1stƒ
2nd
2nd
3rd
John 5, Edward 6
Jim & Anna
Grandparents
autowil
2nd
6th
8th
5th
4th
4thB
4th
3rd
3rd
4th6
4th
Jim 3, Anna 7
Virginia & Dakota
Dating TV Stars
DavidMV
10th
4th
5th
3rd
4th
1stƒ4
5th
4th
5th5
Virginia 3, Dakota 4
Calvin & Ron
Brothers / Models
zacharyooky
9th
8th1
1stƒ
6th
6th⊃
5thC
6th
6th
Calvin 3, Ron 3
Jack & Katy
Father / Daughter
Kiwi
6th
7th
3rd
7th
7th
7thC
Jack 2, Katy 3
Brian & Kieran
Drinking Buddies
redwings8831
3rd
3rd
7th
8th
8th⊂
Brian 2, Kieran 2
Rob Roy & Sambuca
Newlyweds
mandk
7th
9th
9th
9th
Rob Roy 2, Sambuca 1
Carmen & Ray
Newly Dating
DavidJunior
11th
10th
10th3
Carmen 1, Ray 1
Illusen & Jadis
Sisters / Astronauts
uycocoa
5th
11th2
Illusen 1, Jadis 0
Lauren & Jennifer
Miss Americas
eragon
12th
Lauren 0, Jennifer 0
Note 1: Lisa & Dana arrived in 4th and Calvin & Ron arrived in 6th, but both were assessed with a 30 minute penalty for buying eggs in Dénia instead of in Ibiza as they were instructed to. Subsequently, Lisa & Dana dropped to 5th and Calvin & Ron dropped to 8th.
Note 2: Illusen & Jadis quit the race in Leg 2 as they could not complete either detour in the leg. Phil was forced to go out to their location and eliminate them.
Note 3: Carmen & Ray did not perform any tasks in Tunisia on Leg 3 as they had fallen so far behind due to their flight being cancelled. At the first destination, the Tozeur medina, they received a clue telling them to go to the pit stop.
Note 4: Virginia & Dakota did not intersect with anyone in Leg 6 as they had already taken the Fast Forward earlier in the leg.
Note 5: Virginia & Dakota had to leave the race in Leg 9 due to an injury.
Note 6: Lisa & Dana and Jim & Anna arrived 2nd and 3rd respectively, but they both received a 30-minute penalty for getting an incorrect answer at the Roadblock. Lisa & Dana remained 2nd, but Jim & Anna dropped to 4th and last place.
Red means the team was eliminated.
A Green ƒ means the team won the Fast Forward clue. A green-colored leg number indicates that the Fast Forward was available for that leg but not used.
An underlined Blue team's placement means the team came in last on a non-elimination leg and had to perform a Speed Bump task in the following leg.
A brown ⊃ means the team chose to use a U-Turn; ⊂ indicates the team who received it.
Episode Title Quotes
Edit
Episode titles are often taken from quotes made by the racers.
"The Hair Care Routine Must Be Maintained" - Kelly
"This Race Is Weird For Me" - Jadis
"Check Your Clock's Battery And Shut Up!" - Virginia
"Pickle Building? You Know The Pickle Building?" - Kelly
"We'll Make This Fair. Rock Paper Scissors." - John
"Give Us a Dish of Good Luck!" - Virginia
"You've Got a Salon in Your Backpack" - Brett
"You Would've Won the Game Had You Been Better at Balancing Things" - Kelly
"Hot Dumb Model is Wearing a Bikini!" - Dana
"Those Things Look Like Giant Hidden Immunity Idols" - Brett
"You're A Walking Cliché!" - Brett
"Did Two Stupid Americans Tell You To Do This?" - John
"I Feel Like Rubbing Their Failure In Their Faces" - Kelly
The prize for each leg is awarded to the first place team for that leg. All trips are sponsored by Travelocity.
Race Summary
Edit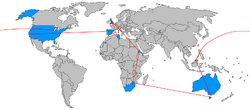 Air travel destination   

Bus travel destination   

Railroad destination   
Water travel destination   
Helicopter travel destination


Detour   

Roadblock   

Intersection   

U-Turn   

Fast Forward   

Speed Bump  

Pit Stop
Leg 1 (United States → Spain)
Edit
In this detour, teams had to choose between Falla Construction or Human Construction. In Falla Construction, teams had to pick a local construction known as a falla and then take it to a man in traditional Saragüells costume at Parc l'Oest who will burn the falla and give them their next clue. In Human Construction, teams had to travel to Algemesí and join a human pyramid in a muixeranga performance. Both team members had to be on top of three levels of the pyramid and balance for 30 seconds to receive their next clue.
Additional Tasks
At the Font de Canaletes, teams had to ensure they returned to Barcelona by figuring out that they had to take a drink from the fountain.
At L'Auditori, teams had to find a flamenco show in an auditorium and find tickets for buses attached to the bottom part of some dancer's dresses. Once teams grabbed one of the tickets from the dresses – either for 8.30am, 9.10am or 9.30am – they could not change it.
Leg 2 (Spain)
Edit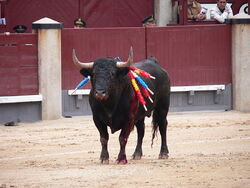 For the first Roadblock of the race, one team member had to run a footrace against a bull on a half-mile stretch of Marques de Campo. If they could jump into the Mediterranean Sea before the bull, they would receive their next clue. If the bull beat them, they would have to try again. The detour on this leg was Drunk As A Skunk or Fast As A Flash. In Drunk As A Skunk, teams had to go to a nightclub and use instructions written in Spanish to make three alcoholic cocktails. If the club owner thought the team had made the cocktails correctly, the team could drink all the cocktails to receive their next clue. In Fast As A Flash, one team member had to waterski on the back of a boat over a course of ski jumps. If the team member didn't fall, they would receive their next clue. If they didn't stay standing, the team would alternate until they completed the task.
Additional Task
Upon arrival in Ibiza, teams had to buy a pack of 6 eggs. Then, after finding the location of the Santa María (The Egg), teams had to figure out how to make one of their egg stand upright like Christopher Columbus did on his visit to Ibiza. Once they made it stand up, they would receive their next clue.
Leg 3 (Spain → Tunisia)
Edit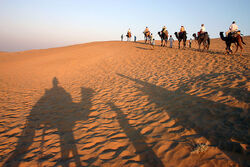 In the Fast Forward, a team had to search the medina for a mehndi applier and have a henna tattoo applied to their hands. The Roadblock on Leg 3 had one team member use their sense of smell to identify the fruit present in a bag of fruit tobacco. Then, teams had to load two bags of tobacco into the saddlebags of a mule and ride the mule into the medina searching for a man smoking their chosen tobacco and give them the tobacco to receive their next clue. In this detour, teams chose either Full Throttle or Water Bottle. In both detours, teams had to pick bicycles and cycle into the Sahara Desert. In Full Throttle, teams followed race flags for 1 mile to an area of the desert and had to figure out what word was written onto the sand in huge letters by a quad bike. Once they figured out the word, they received their next clue. In Water Bottle, teams cycled to a well 2 miles away which was marked on a map. Teams had to fill a bottle with water from the well and take it a short distance to a nomad who would hand them their next clue.
Additional Task
After the detour, teams had to find a camel handler at a camel road sign. The camel handler would give teams two camels to ride on. Teams had to ride their camels while following yellow stones in the desert which would lead teams to the pit stop.
Leg 4 (Tunisia → England)
Edit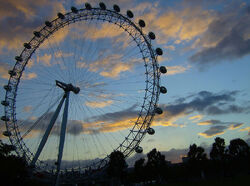 The Fast Forward had teams make their way on foot to an apartment building and, using a paintball gun for protection; teams had to make their way through a number of paintballers into a marked room without being shot to receive the Fast Forward. Any teams who were shot had to return to the entrance of the building. In the Roadblock, one team member had to rappel 150ft (46m) down an elevator shaft to get to the Kingsway telephone exchange while looking around them for numbers randomly placed down the shaft. At the bottom, teams had to dial the numbers they saw into a telephone in the correct order to hear their next clue. This leg's detour, Constable's Grog or Cropper's Plod, required teams to either travel by boat to the Cutty Sark, collect a barrel of rum and deliver it to the Constable of the Tower of London or driving a flock of 20 sheep across London Bridge and then onto Wapping Gardens.
Additional Task
At 30 St Mary Axe, teams had to taste a British food spread called Marmite and decide whether they love it or hate it. Then, teams had to go out on the streets of London and find three locals who agree with their choice and have them put a stamp on their clipboard. Once they have their stamps, they made their way on foot to High Holborn where a businessman would give them the next clue.
Leg 5 (England → Scotland)
Edit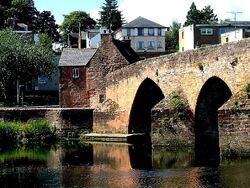 During the pit stop, teams were transported by bus to Dumfries, Scotland. In this detour, teams chose either Scotch Words or Scotch Whisky. In Scotch Words, teams had to pick a verse of a Robert Burns poem and search the grounds of the farm for the lines of the verse they have chosen. In Scotch Whisky, teams had to drive to a bar and use a guide to whisky from around the world to identify the Scotch whisky out of hundreds of bottles of other types of whisky. The Roadblock had one team member dress as a bride and go in amongst a crowd of women then attempt to catch a bouquet of flowers thrown by a bride towards the crowd. If they could catch the bouquet, the groom would hand them the next clue.
Leg 6 (Scotland)
Edit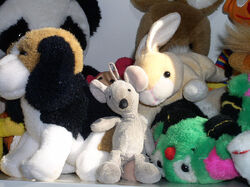 In this Fast Forward, teams made their way to a restaurant and had to eat a red pudding. At Low Craigends teams hit an Intersection, where they had to pair up with another team until further notice. In the Roadblock, one person from each part of the Intersected team had to learn the steps of the Dancing White Sergeant and then join a circle of dancing couples. The racer chosen as the female had to dance their way around the circle without making any mistakes. If both racers could get all the way around the circle and meet up again, they would receive the next clue. After the Roadblock, teams split up again. In this detour, teams chose Pedal Power or Pulling Power. In Pedal Power, teams had to cycle an advertising bicycle on a 2.3 mile course along city streets to George Square. In Pulling Power, teams had to go to George Square and attract 30 locals to them to give them an advertising leaflet.
Additional Tasks
After Intersecting, newly joined teams had to pick a group of 30 school children and lead them along local roads to St. Maurice's High School and use a timetable to take them to the class where they should be where teacher handed the teams their next clue.
At Buchanan Galleries, teams had to make a stuffed dog toy to receive the next clue.
Leg 7 (Scotland → Eritrea)
Edit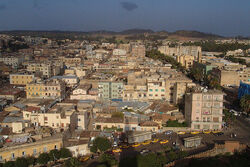 In the Roadblock, one person had to make a poster giving information on Eritrea. Once the judge approved of the poster, teams would be handed a traveller's permit to leave Asmara and their next clue. The detour was Basket of Fruit or Orange Squash. In Basket of Fruit, teams had to check the citrus trees for citrus fruit which have been infected with citrus canker. Once they had enough infected fruits, they received their next clue. In Orange Squash, teams had to peel 25 oranges and squash them by hand to fill a large jug. Teams then had to drink a glass of the juice they had squeezed to receive their next clue.
Leg 8 (Eritrea → South Africa)
Edit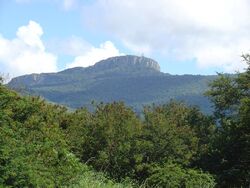 In the detour, Keepy Up or Spirit Up, teams had to either complete ten kick-ups with a soccer ball without the ball hitting the ground or arranging 30 non-English speaking soccer fans into rows, making them complete a Mexican wave, then one team member had to blow a vuvuzela at a volume of at least 200dB. In the Roadblock, one team member had to hit a golf ball from the tee at the top of Hanglip Mountain and have it hit the green of the hole. For the Speed Bump, Calvin & Ron had to go to the Mashovela Rock Pool and beat the tribal "drums of the dead" to "kill" three oncoming foes.
Additional Task
After the Roadblock, team members had to take alternate putts on the green until they get the ball in the hole.
Leg 9 (South Africa → Australia)
Edit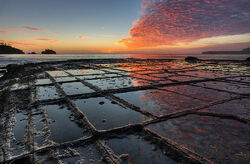 In Leg 9's detour, teams chose either Explore the Reef or Explore the Beef. In Explore the Reef, teams went snorkeling in the Tasman Sea to find a reef with a yellow flag attached to it. Teams had to take the flag and exchange it for the next clue. In Explore the Beef, teams found a butcher and, using a guide to cuts of beef, teams had to cut a side of beef into the correct cuts. The Roadblock on this leg had one team member had to walk around the mountain until they saw a Tasmanian Devil. Once they found one, they had to take a photo of it and then take this photo to a park ranger who would give the team the next clue.
Leg 10 (Australia)
Edit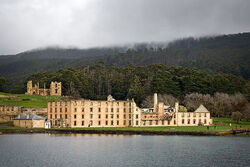 In the final Fast Forward on this race, teams walked to a pier and had to use instructions to build a catamaran. Once it was built, teams could sail out to a buoy and claim the Fast Forward. The detour was Knock-Out or Outta the Park. In Knock-Out, teams went to a boxing arena and put on kangaroo costumes. They then had to box someone dressed as a kangaroo and win a match by getting the other kangaroo to the ground so he stays down for 10 seconds. In Outta the Park, teams entered the cricket stadium and each team member had to hit a shot worth 6 runs against a professional team. In this roadblock, one team member took part in the sport of wood chopping, but inside each of the pieces of wood was a picture of an eliminated team and a true-or-false question about them. Three questions were true and the three corresponding pictures had to be put up on a board. Any incorrect answers meant teams were penalized 30 minutes at the pit stop.
Leg 11 (Australia → Brunei)
Edit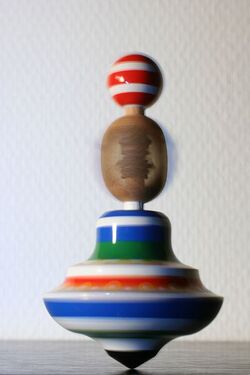 In this Roadblock, one person had to use the information they wrote down on the Sultans of Brunei to arrange the latest 10 Sultans in the order of the amount of time they reigned over Brunei. Once they got the correct order, they received the next clue. For the Speed Bump, Jim & Anna had to take turns spinning a top in such a way as to make it spin for one minute continuously. The detour was Planter or Porter. In Planter, teams had to follow a trail to a lodge, collected seeds and then had to use these seeds to plant trees, replacing trees that had previously been cut down. In Porter, teams had to row 2 miles down river in a small wooden boat that was not equipped to handle the type of river. Also, teams had to carry the boat over points that were too difficult to row through.
Additional Tasks
Teams had to look out from the restaurant of the Rialto Towers for a flag indicating where they'd be flying to next.
At the University, teams had to take any notes they wanted on the Sultans of Brunei, past or present, before taking the next clue.
Leg 12 (Brunei)
Edit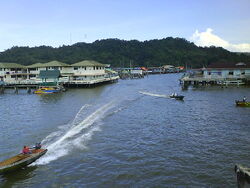 In the Roadblock, one team member had to hunt using a blowpipe in order to hit a string keeping a Travelocity roaming gnome dangling above a plunge pool. Once the string was hit, the gnome would fall into the pool and the team could collect it along with the next clue. The detour, Pick Up or Gas Up, had teams choose between going around the village by boat searching for and picking up 5 specific waste items in the water or going to a floating gas station and convince three locals to let them fill up their gas tanks with more environmentally friendly gas.
Additional Tasks
At the dock, teams had to fill in a pattern on the side of a boat using paint. Teams had to wait for the paint to dry before travelling on.
Leg 13 (Brunei → United States)
Edit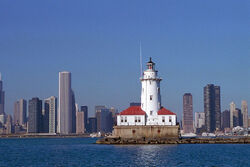 In this Speed Bump, Lisa & Dana had to find a streetdancer in the park who would show them a dance routine. To continue on the race, Lisa & Dana had to perform the routine to the dancer's satisfaction. The final Roadblock required one team member to pick a board and try to remember what detours they completed during the race. The detours they think they chose had a picture representing it which teams had to put on the board. A Fast Forward was represented by a Fast Forward sticker. When teams had all 12 correct, they received the next clue.
Additional Tasks
At the Theatre, teams had to complete a jigsaw puzzle of the world map with each country having an individual piece. Once it was completed, the next clue would be revealed on the back of the puzzle.
At Grant Park, teams had to watch an instruction DVD, showing them how to perform the Cha Cha Slide dance. When they had learned it, they had to choose an area of the park and convince locals to perform the dance with them. When twenty locals were performing the dance at the same time as the team, the team could go and find a DJ who would hand them the next clue.
After the Roadblock, teams had to figure out where The Oprah Winfrey Show is filmed. Teams had to go there and find Oprah Winfrey, who would give the team the final clue.